How to cheat at knitting

Posted 1:11 PM, October 28th, 2010 by
MarkleB
I'm now adding Knitting alongside Guitar Playing and Balloon Animal Twisting for things I've learned for my son.
Technically, I learned how to knit about five years ago when I stole a knitting book and needles from my mother. (These have not been returned.  She can deal with it.) I got about a dozen rows into a sweater and decided that sweaters were a terrible first project, homespun yarn is a terrible first fiber, and the Xbox has a higher return-on-investment if my investment is only going to last for a few hours.
My opinion on the ROI was reversed, however, when my mother-in-law met her grandson.  She bestowed upon him two of the most gorgeous cardigan sweaters I've ever seen in my life.  Gorgeous hand-knit items aren't really new to me, as literally everybody in my family besides me (before this month) either knits or crochets.  (My dad knits, my brother crochets, and my mother and two sisters do both, though I think they all prefer crochet.) For some reason, these sweaters were what inspired me to finally start creating.
Well, the sweaters and his mobile.  My sister crocheted an incredible mobile for my son.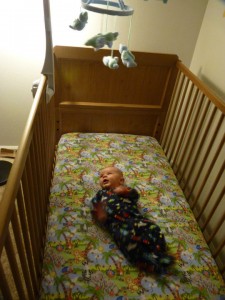 I think I got jealous that he had such amazing hand-crafted gifts from both sides of his family, but nothing from his own mum and dad.
I picked up that same stolen knitting book and those same stolen needles, and started making a baby afghan.  It's a little ribbed blanket with a simple pattern, and it's going well … but taking a loooong time.
While I was looking for yarn to use at the Walmart, Gemma saw a Knifty Knitters round loom set. She asked me what it was and how it worked. When I described it to her, she excitedly told me that she'd had a small spool knitting loom as a child, and loved it. Apparently she'd been wanting to knit something for our son, too, but didn't feel like she could develop the skill to pick up needles and create something.  (She'd gotten as far as casting onto a needle, then knitting one row four or five times before ripping and starting over, and over, and over.)
We bought the looms, and about three hours after we got them home, she'd already completed Devon's first hat!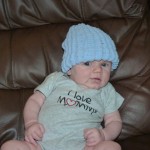 In the meantime, I'd had about 10 days with his blanket, and it wasn't even a foot long.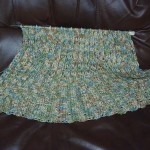 Gah!
The next day, Gemma had completed a hat for herself, and was planning other projects. I felt like I was making no progress on my baby blanket, so I went to the store to buy some new yarn, once again stole knitting implements (this time one of her looms) and started a scarf.
It took 10 days, but it's done and it's fantastic and I don't care if it's cheating. I've found some techniques on the Internet and figure that I can get the time on these scarves (even at 8 to 9 feet long) down to three to five days.  Even with an infant, I have plenty of time to work on them while mummy is nursing our son.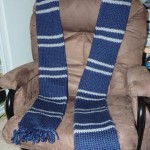 I'll have more pictures of the things I've created after Thanksgiving (which is when we're celebrating half of our Christmas with my family in Utah), after I've given them to their intended recipients. The loom is FAST and easy.
Meanwhile, I continue the slow, plodding work on the baby blanket. I hope to be done with it by the time real Christmas rolls along. Although I'm happy with the work that the looms turn out, the items made with needles are the ones that are exciting me. I can't wait until I'm done with all of the Christmas items, so I can turn my attention to knitting socks in the round using the Magic Loop technique, a new baby blanket for an expecting family member, and eventually sweaters for the whole family.  Just probably without homespun yarn.