Baby Swing Hack

Posted 11:01 AM, December 6th, 2010 by
MarkleB
The baby swing hack is one of the first hardware hacks most new dads tackle. In fact, I first helped with the baby swing hack a decade ago, when a friend came up against the same problem with his new daughter.
The problem is batteries.  Manufacturer suggested retail price for a Fisher-Price Cradle n' Swing ranges from $100 to $210, depending on features. Those that take only batteries start at $100, while those that also come with a power adapter (or place to plug one in) start at $140. The extra $40 is a lot to pay for a $10 power adapter. New batteries every other week would be even more expensive.
Hacking the baby swing to accept a power adapter is the low-cost solution. I'm not recommending anybody actually do this: I'm a bad parent, and this is just the way that I did it. While one of the easiest hacks I've ever done, please don't do it without knowing your way around a soldering iron or without taking proper safety precautions. While this hack will allow someone to continue to choose either batteries or AC power, one should take out the batteries when using AC and not attempt to use both.
The first time I helped with the hack a decade ago, it was kind of a ThereIFixedIt solution. We literally soldered the AC adapter's leads to the battery terminals, and it couldn't be used any other way. (The father went back later and fixed it a little better, but I think the AC adapter was still permanently attached.)
This is a much more elegant solution … And also still a little kludge. The drawbacks:
I didn't make it so that I could leave the batteries in while running it off of AC. Technically I could, but it would still drain the batteries, and it'd be a mess after the batteries ran out.
I wasn't able to find a DC power jack and AC power adapter end that matched at Fry's, and didn't have the patience to order ones that would match. So I used a 3.5 mm microphone jack and plug. It works really well, but it might also get me laughed at.
Our swing is the Fisher-Price How Now Brown Cow Cradle n' Swing (the 2-in-1, not the take-along swing). MSRP is $100, and you can probably find it for $90. We got ours as a dented box discount at the local Mattel Toy Store Outlet for $50 in perfect condition.  It takes 4 1.5V  D-cell batteries wired in serial, for 6V DC total power. One should use around 1.2 amps (1200 mA) for the power adapter, we settled on 1.8 (1800 mA) since that's what they had in-store.  (Fisher-Price actually uses 700 mA adapters, but the 500 mA we first tried was massively under-powered.  An 800 mA adapter may do fine.)
We bought a universal power adapter for $15 (could have gotten it cheaper online), and a microphone jack and microphone plug-end for $0.89 each at Fry's. So, here's my project notes:
Baby Swing Hack
Time:  15 minutes
Cost:  $17
Most difficult part: Soldering wires, drilling holes
To determine if the hack would work, I wrapped a separate wire around each of the ends of the battery terminals. (Just the two at the ends of the battery chain.) You can see them here:
I carefully touched them to the ends of the power adapter (set to 6V DC), very careful not to cross them, and met with success.  I then unscrewed the back, and found this:
I probably should have gotten a few more pictures here, but it's pretty straightforward.  I chose a place for the microphone jack that had plenty of electronics-free space behind it, drilled a hole, put the microphone jack in (the hole was so snug that I was able to just screw the jack in, and it was so tight a fit that it required pliers to do so), and soldered it in.  One trick here: Make sure you note which is the positive lead and which is the negative lead, and wire it correctly. I didn't, so I had to wire the microphone plug onto the AC adapter backwards, too.  You can make out the microphone jack and the wires going to it in this picture: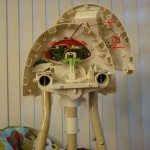 I then clipped off the end of the AC adapter, soldered the microphone plug plug to it, and that's it. I don't have a picture of the AC adapter, but it looks as professional as the baby swing does.  Here's the end result:
The end product is a baby swing that has a power adapter (or can use batteries) for $67, instead of $140. If I'd ordered parts online, or found used parts, it would have been even cheaper. And the baby loves it. We'll probably "hack" it a bit more, and securely put our own mobile at the top, as the one it comes with is fairly uninteresting … To me. Our child seems fascinated with it anyway.